Reserve online
Hotel Farnese Rome
and save with our discounted rates
CURRENCY: U.S. dollar USD

Euro (EUR)

Pound sterling (GBP)

U.S. dollar (USD)

Canadian Dollar (CAD)

Swiss Franc (CHF)

Yen (JPY)

Australian Dollar (AUD)

Yuan (CNY)

Rouble (RUB)

Rupee (INR)

Czech Koruna (CZK)

Norwegian Krone (NOK)

Danish Krone (DKK)

UAE Dirham (AED)

Brazilian Real (BRL)

Hong Kong Dollar (HKD)

Jordanian Dinar (JOD)

Malaysian Ringgit (MYR)

New Zealand Dollar (NZD)

Omani Rial (OMR)

Kina (PGK)

Romanian New Leu (RON)

Saudi Riyal (SAR)

Swedish Krona (SEK)

Singapore Dollar (SGD)

Thai Baht (THB)

CFP Franc (XPF)

South African Rand (ZAR)

Moroccan Dirham (MAD)

Argentine Peso (ARS)

Taiwan Dollar (TWD)

Kuwaiti Dinar (KWD)

Bahraini Dinar (BHD)

Icelandic Krona (ISK)

Philippine Peso (PHP)

Bermudian Dollar (BMD)

Paraguaian Guarani (PYG)

Brunei Dollar (BND)

Polish Zloty (PLN)

Shekel (ILS)

Mexican Peso (MXN)

Fiji dollar (FJD)

Qatari Riyal (QAR)

Kazakhstan Tenge (KZT)

Belarusian Ruble (BYN)

Namibian Dollar (NAD)

Uzbekistani Som (UZS)

Dobra (STN)

Honduran Lempira (HNL)

Malagasy Ariary (MGA)

Convertible Mark (BAM)

Indonesian Rupiah (IDR)

Colombian Peso (COP)

Tunisian Dinar (TND)

Turkish Lira (TRY)

Vietnamese Dong (VND)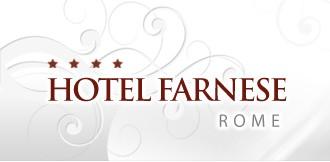 Home > Hotel
Once it was an aristocratic residence, today it is the seat of Hotel Farnese, a luxury hotel in the heart of Prati one of Rome's most elegant districts. Its owners are pleased to welcome personally their guests and introduce them to a soft atmosphere of refined elegance and impeccable service.

The Palace, dating back to 1906, has been completely renovated and opens onto a silent street named after it. Two minutes walk from "Lepanto" metro station, and situated half-way between the Vatican City and the historical centre, Hotel Farnese, with its charming and exclusive ambience, is a superb setting for business and leisure travellers alike. The handsome atrium lobby hosts an authentic Italian object d'art from the XVII century: a Louis XlV frontal made up with multicoloured marble mounted in the reception base. Within this distinctive


atmosphere, you may experience the warm hospitality and the efficiency of our friendly personnel, ready to give any tourist information or to meet your needs.It is a pleasure to have a break in the elegant hall near the atrium lobby, featuring period furniture and authentic works of art such as the art noveau bureau (dating back to 1910) and the portrait of Pope Paul III Farnese.

The beautiful wisteria wich decorates every springtime the hotel's facade has inspired the stained-glass window at the end of the lobby made of blown and opalescent glass. From the roof garden where breakfast is served is possible to see the splendid view of St. Peter's Dome and the typical Roman roof tops.
Great attention is placed in choosing first quality fresh products.
In the hotel is possible to access internet with Wi-Fi free of charge.
Safes in the rooms.

The rich buffet with its varied courses shows the great attention placed in choosing first quality fresh products.Rome is renown all over the world for its beautiful sunny weather, which guests may enjoy better when they take some relaxing moments in the hotel's multilevel terraces offering a charming view of the city.
Give us your Feedback
Hotel Farnese, Via Alessandro Farnese, 30 - Rome