Reserve online
Hotel Farnese Rome
and save with our discounted rates
CURRENCY: U.S. dollar USD

Euro (EUR)

Pound sterling (GBP)

U.S. dollar (USD)

Canadian Dollar (CAD)

Swiss Franc (CHF)

Yen (JPY)

Australian Dollar (AUD)

Yuan (CNY)

Rouble (RUB)

Rupee (INR)

Czech Koruna (CZK)

Norwegian Krone (NOK)

Danish Krone (DKK)

UAE Dirham (AED)

Brazilian Real (BRL)

Hong Kong Dollar (HKD)

Jordanian Dinar (JOD)

Malaysian Ringgit (MYR)

New Zealand Dollar (NZD)

Omani Rial (OMR)

Kina (PGK)

Romanian New Leu (RON)

Saudi Riyal (SAR)

Swedish Krona (SEK)

Singapore Dollar (SGD)

Thai Baht (THB)

CFP Franc (XPF)

South African Rand (ZAR)

Moroccan Dirham (MAD)

Argentine Peso (ARS)

Taiwan Dollar (TWD)

Kuwaiti Dinar (KWD)

Bahraini Dinar (BHD)

Icelandic Krona (ISK)

Philippine Peso (PHP)

Bermudian Dollar (BMD)

Paraguaian Guarani (PYG)

Brunei Dollar (BND)

Polish Zloty (PLN)

Shekel (ILS)

Mexican Peso (MXN)

Fiji dollar (FJD)

Qatari Riyal (QAR)

Kazakhstan Tenge (KZT)

Belarusian Ruble (BYN)

Namibian Dollar (NAD)

Uzbekistani Som (UZS)

Dobra (STN)

Honduran Lempira (HNL)

Malagasy Ariary (MGA)

Convertible Mark (BAM)

Indonesian Rupiah (IDR)

Colombian Peso (COP)

Tunisian Dinar (TND)

Turkish Lira (TRY)

Vietnamese Dong (VND)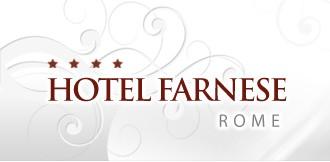 Today Hotel Farnese is a luxury hotel in Rome Prati district but in the past it was an aristocratic residence.
His building is dating back to 1906 but it has been recently renovated and face on a quiet street. "Lepanto" metro station is just few meters far, so it is easy to reach either Vatican City or Rome city centre as it is located in the half-way. Hotel Farnese is a perfect accommodation for business or leisure travelers as it offers a charming and exclusive ambience.

Guest rooms are spacious and furnished with hand-made walnut furniture and all modern comforts. Some rooms feature private balcony.
In this atmosphere, you may taste the cordial hospitality of Hotel Farnese and enjoy every moment of your stay in the Eternal Town.

Groups:
When booking more than 5 rooms, hotel may apply different payment policies and additional supplements.
Give us your Feedback
Hotel Farnese, Via Alessandro Farnese, 30 - Rome